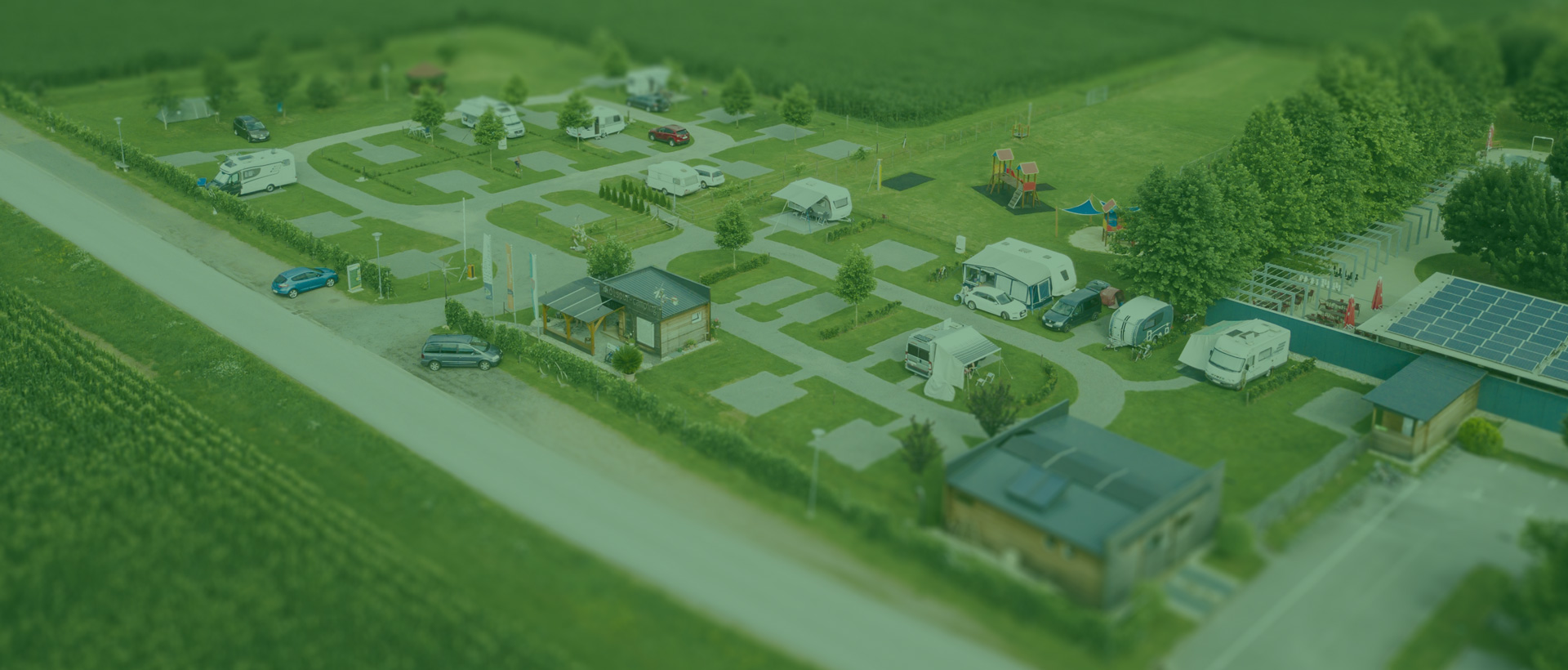 ---
Campsite
Escape everyday life - enjoy relaxing days.
Steirische Ölspur-Camping in Eibiswald
The Styrian Ölspur campsite located in Eibiswald, is close to the South West Styrian border with Slovenia. The market square of Eibiswald is reachable within five minutes by foot. A lot of places for shopping and other attractions can be found there. The Eibiswald waterpark is located right next to the Ölspur campsite which is great for the children.
This content requires HTML5/CSS3, WebGL, or Adobe Flash Player Version 9 or higher.
Campsite Info & Layout
---
---
The campsite has a size of 6,000 square meters and has 30 parceled pitches, all of which are approximately 100 square meters.
Outside the bathing season (September-April), at the request of the camper, the paved and partially paved area, which serves as a parking place for the bathers of the adventure pool, can be used as a campsite.
Electricity & Water
---
---
Several centrally located power-boxes are available to campers and each socket is protected with a 16 Amp fuse. The sanitary facilities provide a 25m hose to fill up water tanks. The provided water is of very high quality.
Sanitary facilities
---
---
The glass roofed and modern built sanitary facilities offer four toilets, a urinal, two small and four big washbasins and four separate shower rooms which are equipped with a washbasin as well. Two large kitchen sinks with drip pans are available too. In addition, our sanitary building has a small relaxation room with an infrared cabin made of cedar wood.
For convenient filling of the water tank there is a 25m long garden hose. All water pipes have the highest drinking water quality.
Reception
---
---
The reception house is open for everyone during office hours. A lot of informative brochures are provided there. Take a seat under the glass roof and read the brochures or use the free Wi-Fi to get more information on the region, sightseeing locations and how to schedule your leisure time during your stay.
A pavilion in the rear part of the campsite is very popular among campers to get to know each other and meet like-minded people.
Ölspur-Camping Mopeds
---
---
Our 6 Ölspur-Camping Mopeds are available to our guests.
In any case, the fun factor is guaranteed with our little guests.
Gas bottles service
---
---
Approximately 5 minutes walk from the campsite is a discounter with gas bottles service. If desired, we gladly help our guests with the replacement of the bottles.
---
Newsletter Registration
Register in time and receive all the news and special offers that we have prepared for you!